ABOUT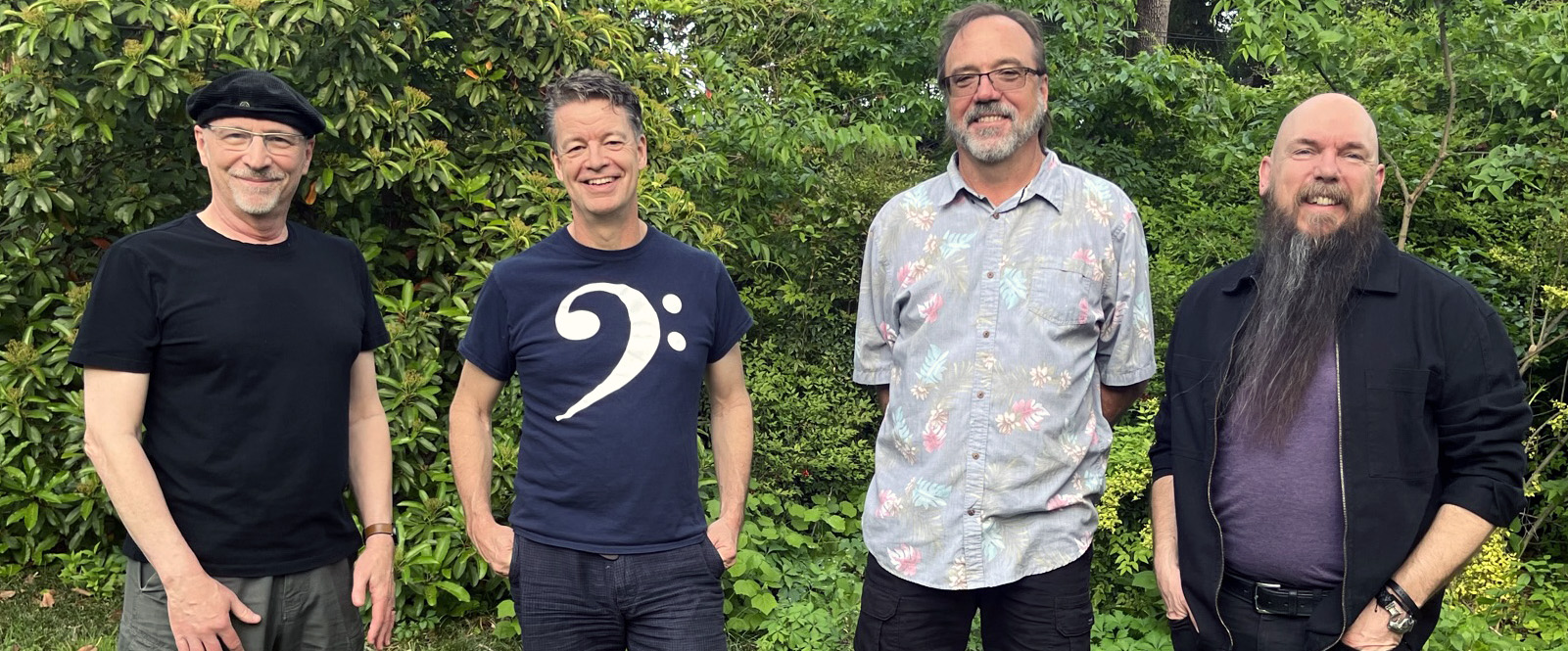 Current Personnel (left-to-right):
Ted Thomas, drums, cymbals, vocals (2000-present)
Mick Peters, Chapman Stick, bass guitar, acoustic guitar, bass pedals, vocals (2000-present)
Joe Funk, electric & acoustic guitars (2001-2016 + 2022-present)
Bob Villwock, keyboards (2019-present)
Alumni:
Brett Cosby, electric guitar (2017-2022)
Thad Miller, keyboards (2002-2006 + 2016-2018)
Bruce McIntosh, keyboards (2007-2016)
Patrick McFarland, keyboards (2000-2002)
Biography
Sound and Style
Thirteen of Everything is a modern symphonic progressive rock band founded in 2000 in Austin, Texas, whose debut album, "Welcome, Humans" (Musea Records, 2005), received wide acclaim. Their 2019 album Our Own Sad Fate and now 2023's Time and Other Delusions continue their penchant for adventurous arrangements with interesting rhythms, dramatic mood shifts, strong melodies and thematic development.  Though largely informed by the pioneers of progressive rock, there are also other influences from modern prog and other genres.  A melancholy ambience is a hallmark, but also subtle humor.  Each song can be quite different from one to the next presenting a variety of moods, yet despite this scope, the music still retains an identifiable and unique style that is distinctly Thirteen of Everything.     
A Brief History
Formation:
Founders Ted Thomas (drums, vocals) & Mick Peters (Chapman Stick, bass guitar, acoustic guitar, bass pedals, vocals) met in March 1999 while waiting in line to attend a local concert by ProjeKCt Three (a King Crimson side-project) and discovered their mutual love for progressive rock.  After a getting together for a few jam sessions as a duo, in early 2000 they invited keyboardist Patrick McFarland (a co-worker of Thomas's who had expressed a fondness for prog-rock) to join them in making original progressive music.  The trio worked on musical arrangements of each others' various ideas, but desired a guitarist to complete the picture.  In mid-2001 the three were advised to hear guitarist Joe Funk perform in a local progressive instrumental trio called Two Sheds. The trio liked what they heard and learned that Funk shared many of the same musical influences. As it turned out, a few months laterTwo Sheds disbanded allowing Funk to join forces with Thomas, Peters and McFarland.  With the four basic musical ingredients now in place, the quartet continued to develop and write new material, and later made plans to record and perform.  
Debut Album:
In early 2003, the group settled on the band name Thirteen of Everything, recorded a home demo and distributed it freely among friends and music labels at the annual prog-rock festival NEARfest.  McFarland left later that year and in November 2003 was replaced by Thad Miller.  The band then proceeded to rehearse intensively with Miller and play gigs in the Austin area.  Later that year, the demo recording paid off when French record label Musea Records offered the band a world-wide licensing/distribution contract.  Rather than use the original demo recordings, the band preferred to make a better quality recording of the material for official release, so they spent all of 2004 meticulously re-recording all the songs from the demo as well as new material including a 26-minute long-form piece.  The resulting album "Welcome, Humans" was released in spring 2005 and received many positive reviews. 
Writing/Recording New Material for 2nd Album:
Rather than return to live performance after the debut album was released, the band decided to focus on writing new material.  However, in November 2006 Miller left and was later replaced in the spring of 2007 by keyboardist Bruce McIntosh.  After a long period of intermittent activity (rehearsal, writing, recording) prolonged by various set-backs and delays, McIntosh left in late 2015.
Return to Live Performance and Continued Writing/Recording:
In February 2016 the band asked former keyboardist Miller, if he was interested in re-joining, and happily he said "yes".  The band soon returned to live performances leaving further recording on the back-burner for the time being.  Then at the end of 2016, Funk left when he  had to re-locate to another state for a job opportunity.  In April 2017 guitarist Brett Cosby joined, and throughout 2017 and most of 2018, the band continued to perform as well as write and record more new material.  In September 2018 Miller decided to leave the band again.
2nd Album:
During late 2018 into early 2019, Peters, Thomas and Cosby finished the final mixing and mastering of Thirteen of Everything's long-awaited sophomore release, while also laying the groundwork for new material to be recorded for a 3rd album.  In June 2019 the 2nd album "Our Own Sad Fate" was released on Basement Avatar Records and received many positive reviews.  
2019
In June 2019, Bob Villwock joined to fill the keyboard role, enabling the band to resume regular rehearsals.  Currently Thirteen of Everything is rehearsing both old and new material, as well as writing and recording for a 3rd album. 
2020
In January 2020 Thirteen of Everything returned to the stage for two shows  Jan. 11th for "Progressive Rock Night at The Townsend", and Jan. 19th for "A ProgRock Jubilee at One2One Bar" (see PHOTOS and SHOWS). Then the pandemic hit, but the band kept in touch every few weeks via video calls.
2021
Thirteen of Everything re-convened to resume working on the third album.  As the first album with the full involvement of guitarist Brett and keyboardist Bob, this album will be yet another progression into new territory.
2022
April - May 2022: Thirteen of Everything managed to play two shows (see SHOWS) before Brett moved back to his home state of Massachusetts.
June - December 2022: The band continued to finalize mixing and artwork for the 3rd album.
November 2022 - present:  Original guitarist Joe Funk returned to the fold and the band returned to regular rehearsals.
2023 
March 17 - Thirteen of Everything release 3rd album Time and Other Delusions.  CDs, digital downloads and streaming are now widely available.  See STORE.
April 22 - Thirteen of Everything return to live performance with their first gig in nearly a year. See SHOWS.
Want to know more?
Listen to the tracks available for streaming on this site and let the band what you think.  To leave comments or to request more information or to sign up for an e-mail list, contact the band.